What

is

another

name

for

Royal

Weddings?
Rajasthan Weddings! 
---
If you want to experience the glamour of getting married inside the palace walls, roaming the castle corridors like a prince/princess and just getting hitched under a beautiful sky, then Rajasthan wedding venues are the place for you. These venues not only offer a once in a lifetime ambience, but also give a spacious layout for all your wedding shoots, baaraat dances and post wedding socializing with all your guests. Most of these venues work well for an outdoor wedding, but a cosy indoor or a semi indoor weddings along the poolside are also included.
Some royal places to get married in Rajasthan
Located at a distance of 12kms from the Jodhpur Airport, this vast palace can house up to 5000 guests. Its characteristic features are the huge driveways and porch areas that make for a perfect baraat procession and the authentic coloured palace exterior that gives you a feel of living in an actual royal housing. You can opt for an intimate wedding by booking just the banquet hall or the lawn area, or go for a full on large scale wedding. The huge pool also adds to the ambience.
Shiv Vilas resort – Jaipur
Located 38 kms from Jaipur airport, this venue can house up to 3000 guests. This literally looks like those marriage halls they show in the movies. The resort is a white walled palace that ticks off all the boxes of a king style wedding. The tall palms lined along the driveway and the fountain in the middle gives it a great outdoor look and also serves as an amazing night time reception venue. The attention to detail architecture and design make the whole experience more authentic.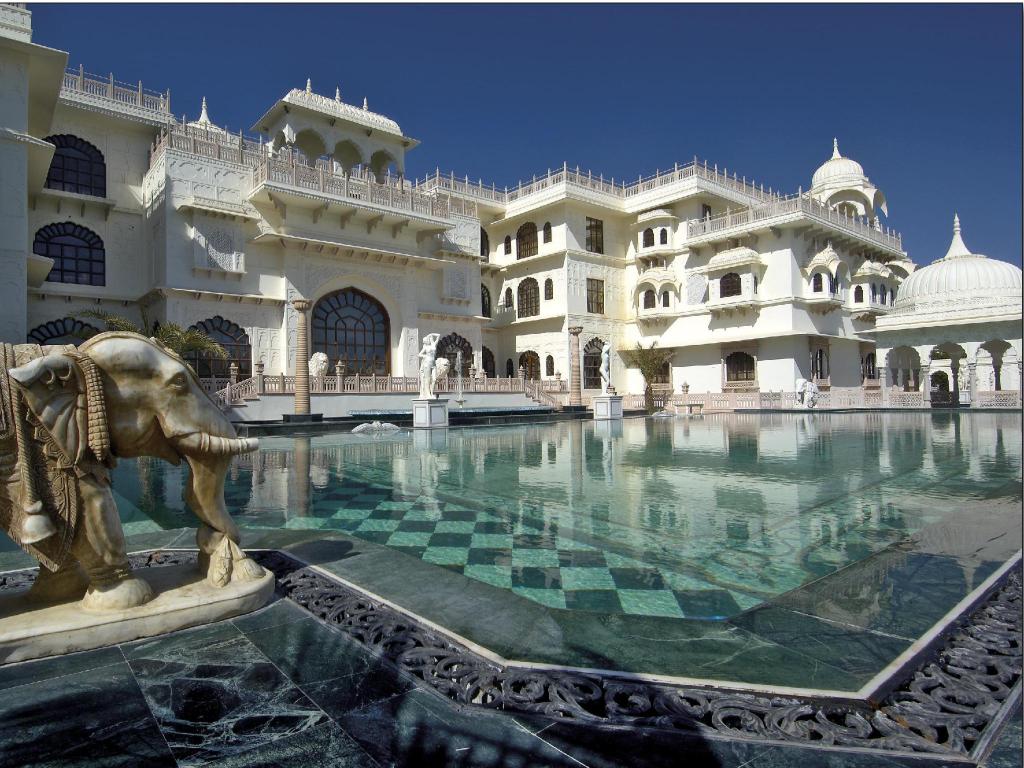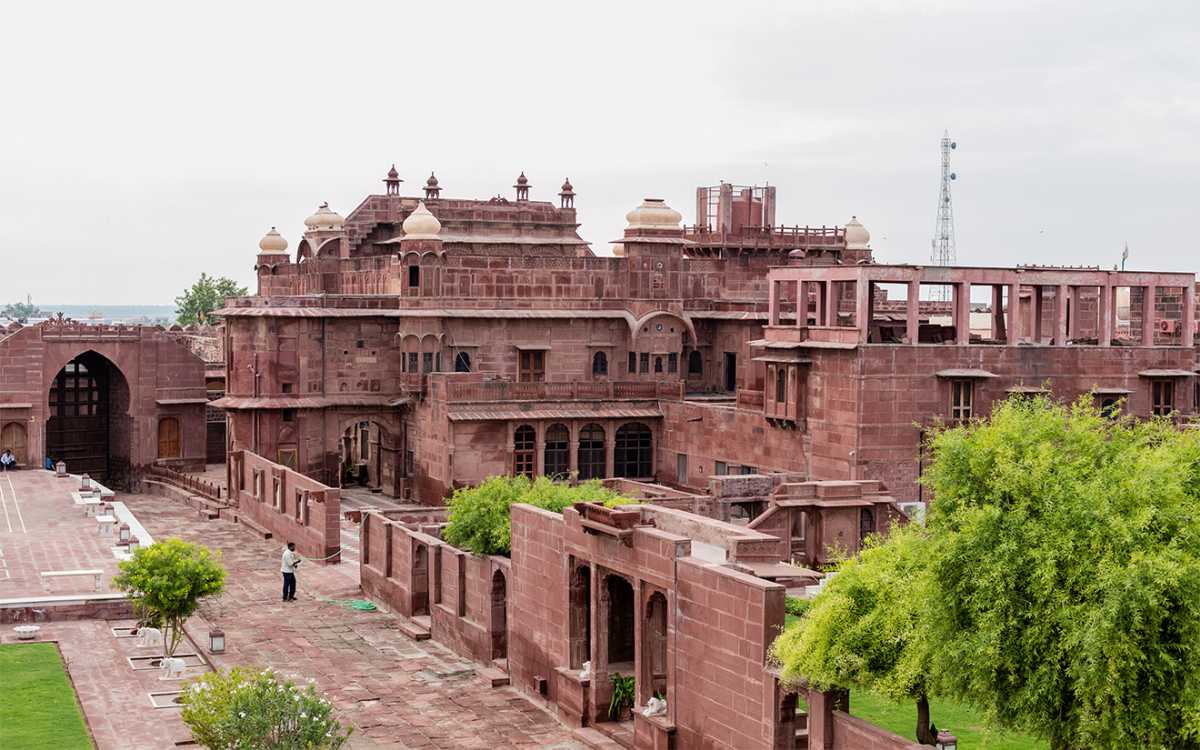 The fort pokaran – jaisalmer
Located 119 kms from Jaisalmer Airport, this venue has about 20 rooms and can house thousands of guests. By far this is the venue that perfectly oozes out the Rajasthani ambience. This castle comes with a broad terrace area and balcony where you can have amazing photo shoots and even host the wedding lunch/dinner. If you are going for a small scale wedding, then the outdoor lawns give you a great 'walking down the aisle' wedding experience.
Welcomhotel Khimsar fort and dunes
Located 95 kms from Jodhpur Airport, this all rounder venue has about 90 rooms and can house up to 300 guests. If you want to go overboard and have it all, then this is the venue for you. You get to have the castle feel, the fort feel, you get to be between lush trees and also face the perfect sand dunes of Rajasthan. It also has an amazing terrace and year round swimming pools. With comparatively less guest numbers, this venue is a perfect spot for an intimate, small wedding.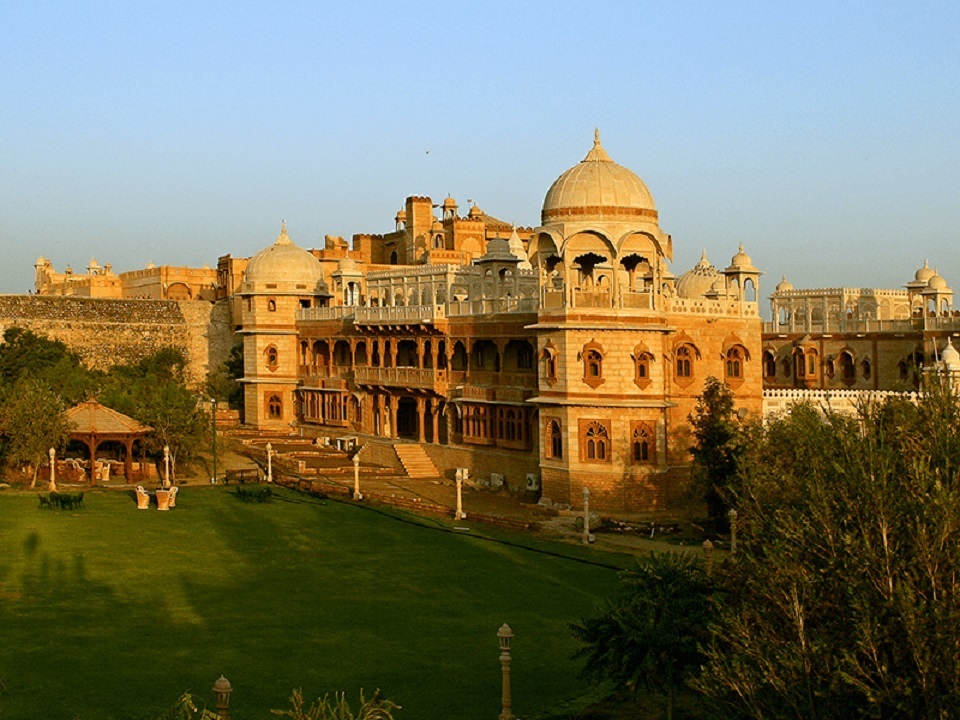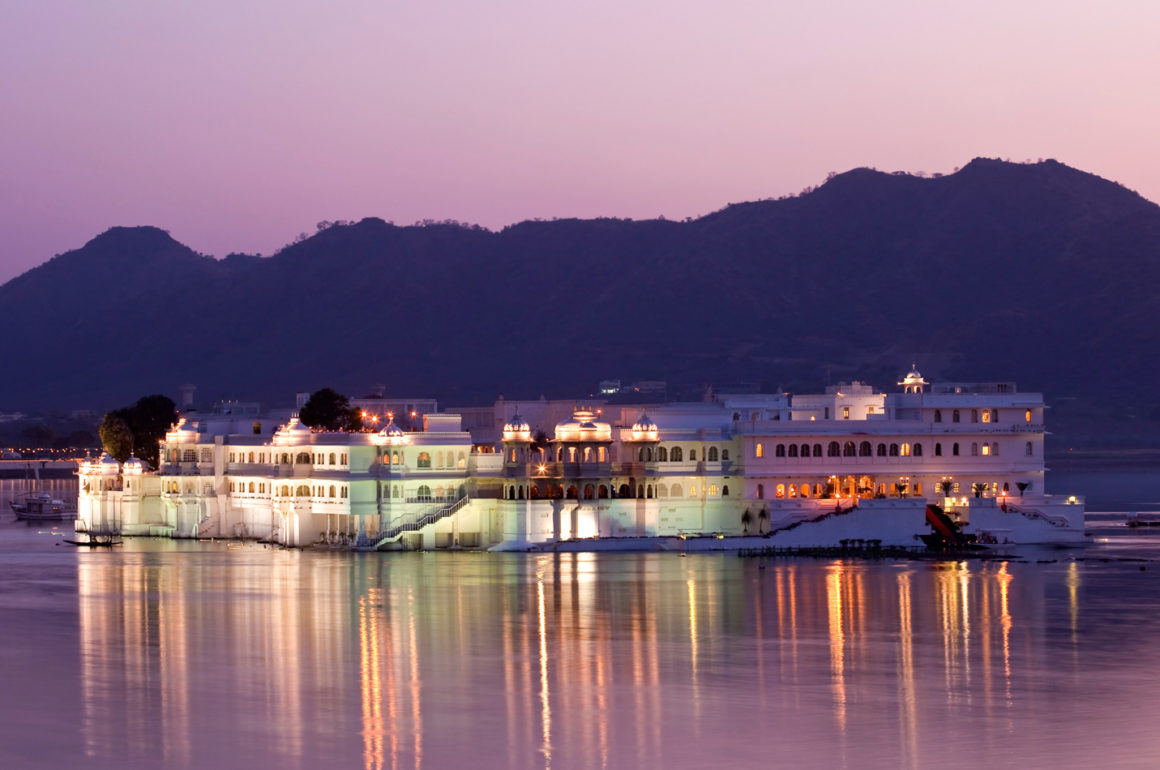 Taj lake palace – Udaipur
Located 24kms from Maharana pratap Airport, this venue houses about 800 guests. A literal fantasy wedding venue. You will be surrounded by the clear waters on all sides and literally be tying the knot on top of scenic waters. The venue in itself is beautifully designed with clear white walls and authentic domes. This also provides an amazing night view when lit up.
Located 55 kms from Jaipur international Airport, his venue can house up top 200 guests. If you are someone who geeks out on the rich ancient history of our country and wants to add some historic moments to your own life, then this venue would suit you best. It is perched on top of a granite hill and is hidden away in the Aravalli mountain range. You can have a cosy little poolside wedding or a graceful terrace wedding in this 230 year old fort. The decor and food are the characteristic features of this particular wedding venue.